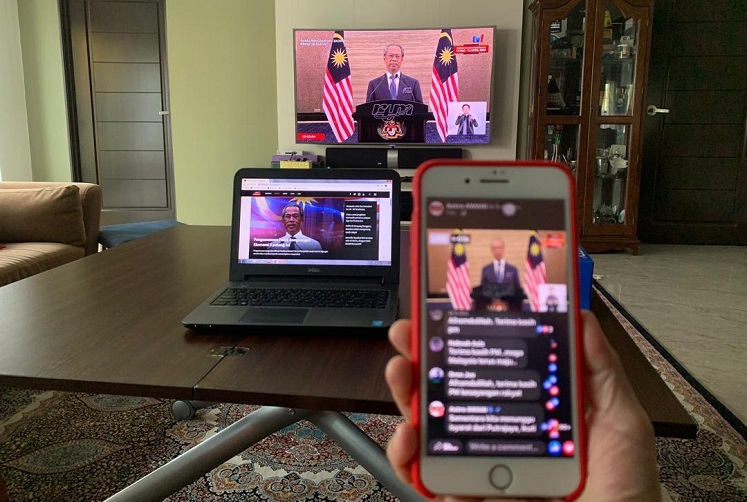 Prime Minister Tan Sri Muhyiddin Yassin announcing the second stimulus package in a live televised broadcast. (Photo by Abdul Ghani Ismail/The Edge)
Additional stimulus package measures announced by Prime Minister Tan Sri Muhyiddin Yassin on April 6, 2020:
Read Prime Minister Tan Sri Muhyiddin Yassin's second speech on the Prihatin Rakyat Economic Stimulus Package here
• PM: Govt provides additional assistance for SMEs under Prihatin Tambahan economic stimulus package amounting to RM10 billion
• The salary subsidy for SMEs under the Prihatin stimulus package has been expanded to RM13.8 billion from RM5.9 billion, with additional measures for all SME sizes (from under 75 employees to over 200 employees).
• PM: Landlords urged to provide rental discount of 30% to SMEs during MCO and 3 months after MCO, to receive tax break for April-June period
• PM: Foreign worker levy cut by 25% for those with permit ending Dec 31, 2020, but discount not applicable for domestic helpers
• PM: Special grant of RM3,000 each for eligible micro businesses registered with the Inland Revenue Board amounting to RM2.1 billion for 700,000 micro businesses.
• PM: 2% interest rate under Bank Simpanan Nasional Micro Credit Scheme to be waived; scheme will now be expanded to Tekun Nasional with maximum credit of RM10,000
• PM calls for financial services providers registered under Moneylenders Act 1951 to provide six-month moratorium for SME loans from April 2020, as what banks…