My first encounter with Lending Club (LC) was when I analyzed LendingTree (TREE) several months ago. Because I was finally out of other ideas to pursue, I wanted to take a look into this stock. What grabbed my attention was that it seems a disrupting FinTech that appears cheap (1.15x book value) and has traded higher in the past while its financials are improving, so it could be a turnaround. Furthermore, others have argued that the company has considerable cash balances that should be taken into account in the valuation of the stock.
Over the past 12 months, LC has been a terrible investment, lagging the S&P by over 40%-pts. This could prove to be an opportunity for a contrarian investor to scoop up the discounted shares.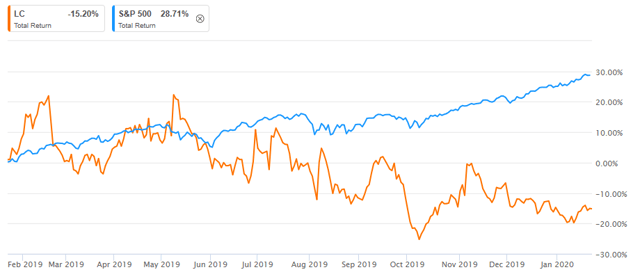 Source: Seeking Alpha.
However, my investigation has discovered that the company does not create value after being in business for well over 10 years. It is disappointing that such a mature FinTech with a large market share in a rising industry fails to do as well in its field as a bank.
Introduction
In a nutshell, LC is a Fintech that provides unsecured loans to consumers and small businesses though the internet. The loans are sold to investors, which include retail as well as professional investors, greatly reducing the credit risk to LC. In order for LC to thrive it must be better at banking than an ordinary bank. It can do so by cheap funding, superior underwriting or a low cost structure. It seems that LC has chosen for the latter.
As I started…