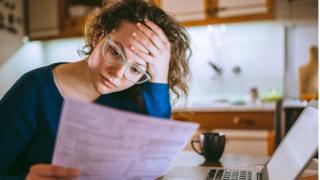 If you recently ignored a text from your bank with something about "fees", you might soon wish you hadn't.
If you use an overdraft, how much you pay could be about to drastically change.
That's because new rules have come in that some experts have called the biggest overhaul in fees for a generation.
For many of us, it means we'll likely save a few quid every month. But for some it could get a lot more costly to go into debt.
Young people, specifically 16-24-year-olds, are the group who use an arranged overdraft the most and 44% have dipped into theirs during the past 12 months.
Many of the major banks have now announced their new charges and how they'll dish them out.
Radio 1 Newsbeat's found 10 major UK banks that will now charge almost 40% interest for going into the red.
They are Lloyds / Halifax / Bank of Scotland, Monzo, TSB, Barclays, HSBC, M&S bank, First Direct, Nationwide, Natwest / RBS and Santander.
The new rules kick in on 6 April, so there's a bit of time to make a plan.
What's going to happen?
Banks are being forced to charge a simple annual interest rate (APR) on all overdrafts – so if you use an arranged or unarranged overdraft you will get a set rate.
The Financial Conduct Authority (FCA), the people who regulate banks, brought in the…